First giving Honor to God, who has created this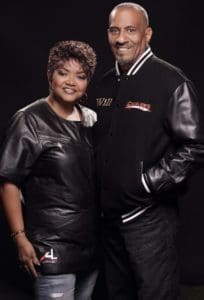 opportunity in my life.
Alumni4life (A4L) LLC a family owned business. I am honored that you have taken the time to visit our website and pleased to bring you a first class website.  I looked forward to having the opportunity to customize your needs on a client-by-client basis.  I will personally work with you to ensure your expectations are met.  As owner of Alumni4life, I count it a blessing that God has allowed me through his creativity to start a company.  A4L is blessed to have some very talented people come together and make this all possible.
I would like to thank a few people who helped make my vision come to LIFE:
Very talented photographer, Mr. Roy Cox of Roy Cox Photography located in Baltimore, Maryland for taking the photos to a new level
Local talented young photographer & videographer, Tim Hudsepth from Bowie, Maryland in assisting with inserts of new arrivals photos and Alumni Corner videos.
Joe Kingston located in Bowie, Maryland his insight and creativeness in building this first class website
I would like to thank my beautiful family for not only being there for me, ut also for being my models for the website.  My lovely wife of 36 years – Alice; son -William Jr.; twin daughters – Donte and Dominique; and baby girl – Danielle.  I truly thank you all for making this all possible.
Finally, yet most importantly I would also like to thank God for sending an angel by the name of Rev. Lachele Goode of Perfecting of the Saints Deliverance Ministries to confirm and activate Alumni4Life through her sermon.  She relayed a message from God to me stating: 
GOD has something GREAT for you to do.  From that moment, LIFE was breathed into Alumni4Life.  Enjoy the site and please don't hesitate to contact us through the various ways listed on the website.
God Bless
William G. Jones, Sr
Owner – Alumni4life LLC